SHIP HISTORY:
It has been suspected for a while that the "lobster wreck" was a dredge. Recently, there was a confirmation of that suspicion plus a probable identification. In August of 2000, Bryan Tate, of Wilmington, NC, found a windlass/winch from the "lobster wreck". With two lift bags, he and dive buddy Steve Lewis recovered the piece from the wreck. On the winch, Bryan found a name plate for the Ellicott Machine Company. The Ellicott Machine Company is still in business and after some correspondence, a company representative matched the contract number and reported to Bryan that the winch was originally installed on the dredge, Porta Allegra. The Porta Allegra was built around 1908 and was outfitted with a 20 inch cutter. Company records do not indicate whether this dredge sank or whether this winch has been reinstalled on another dredge.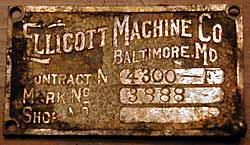 "Ellicott Machine Co., Baltimore, Md.,
Contract No. 4300-F
Mark No. 3888
Shop No"
Brass plate from the windlass recovered by Bryan Tate in August 2000. (Photo: Byran Tate)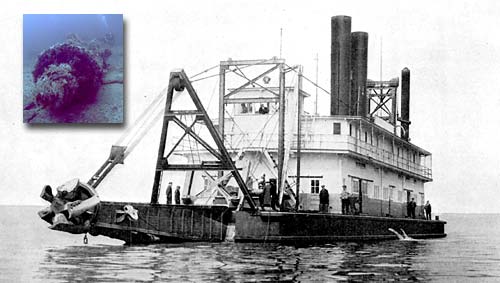 Steam dredge, contemporary of the Porta Allegra, with 20" cutter (Photo: Ellicot Machine Co.)
INSET: 20" cutter of the Porta Allegra as it appears today on the ocean bottom.
---
DIVING NOTES:
Diving Depths: 115-125 ft.
Current: none to slight
Visibility: 50+ feet
Summer Temperature: High 70s to lo 80s
Points of Interest: Four boilers and large steam engine, bow and stern anchors, derrick posts and dredge auger. Lots of tropical marine life.
Fish/Animal Life: There seems to be an abundance of tropical marine life on this wreck. Lots of angelfish and other small tropicals as well as lobster (but of course!) and hogfish. The lionfish (see below) is also a frequent and recent resident to this wreck.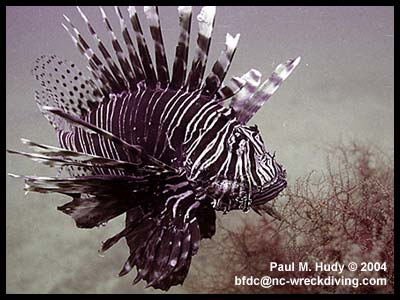 Numerous lionfish — Pterois volitans — now make this wreck home
Description: I first dove this wreck in the mid/late 80's on the Whipsaw out of Wrightsville Beach, NC with the late Captain Ed Wolfe. As far as I know, Ed, an "old-salt" fishing captain, was the first to take divers to this site. It is referred to as the "Lobster Wreck" because on the opening day of the old lobster season (before March 1 and after August 6), at least one dive boat would make the long trek to the site and come back with dozen or so large spiny lobster. Since the lobster season is now year-around with a two-per-diver limit, this wreck is visited less often.
The wreck has not been identified, but it appears to be some type of dredge. A date of 1909 on a steam gauge recovered by Gordon Smith offers the only clue as to the time of its sinking. [See update on identification above] The wreck site is rectangular in shape and contiguous over its length. The wreck is quite small and appears to be somewhere between 150 and 200 feet in length and less than 100 feet wide. There are four boilers and a large steam engine which were used to power the dredge. These offer the highest point of relief on the wreck. Aft of the engine, there are two large posts rising up from the wreck. These were used to support the dredge derrick and deck structure. The dredge auger is extending out from the "stern" of the wreck and is lying out in the sand much like a propeller shaft. The wreck can be easily circum-navigated in a single dive. In spite of its small size, the "Lobster Wreck" is one of the more beautiful dives off of North Carolina and has a lot to offer both photographer and hunter. In the last couple of years, the coastal waters of NC have been the home of "invasive" species of fish normally only seen in the tropcial Pacific — Pterois volitans, more commonly know as a lionfish. No one knows exactly how the fish were introduced, but scientists have been tracking the fish as they spread from Florida. The "lobster wreck" seems to have a pretty consistent resident population of lionfish. I have seen as many as 6 different ones in a single dive.